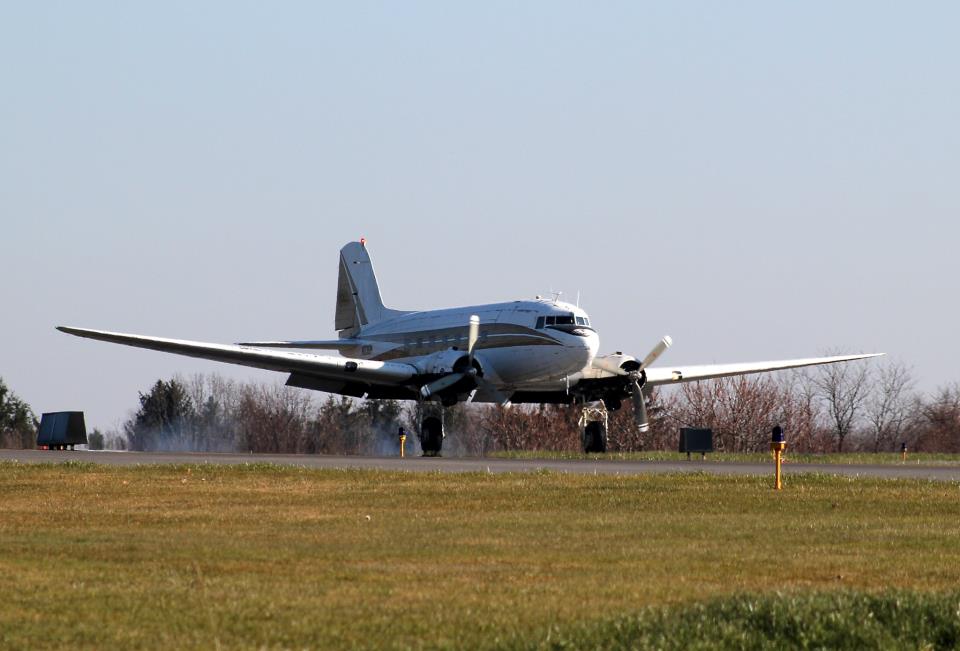 Introducing Our C-47 Skytrain
Air Heritage at this time, would like to announce the newest member of our museum has touched down on our ramp. Air Heritage is now the proud new owner of a World War Two Veteran, a C-47 Skytrain.
Our C-47 has been sitting on the ramp at the Vietnam Huey Pilots Association's hangar across from ours' since November 29th, 2012 when they received it from Florida. We reached a deal with them to sell our OV-1D for their C-47 and the C-47 officially became ours late last week.
For all you OV-1D fans don't be too upset though, the upside of the deal is that our OV-1D will be staying with us, even though we will no longer be the owner of it, at least for the time being.
Now for a little bit of history of 716.
Our plane came off the production line on September 13th, 1944 and was delivered to the USAAF as a C-47B, # 43-48716. It served in the European Theatre of Operations (ETO) after arriving in Welford Park, England on the 27th of September, 1944, just missing operation Market Garden by ten days.
It briefly served with the 8th Air Force before being transferred to the 9th Air Force sometime before December of '44. Upon arriving with the 9th AF, it served within the 53rd Troop Carrier Wing, 435th Troop Carrier Group and 75th Troop Carrier Squadron. It flew two missions over the Battle of the Bulge resupplying the allied forces in late December '44.
In February of '45, it moved to a new home base of Bretigny, France. From there it took place in the world's largest airborne operation in history to be conducted on a single day, Operation Varsity (March 24th, 1945); dropping over 16,000 paratroopers from several thousand aircraft to cross the River Rhine. On that day, our plane towed two Waco CG-4A Gliders full of troops.
At this time, we don't have any more specific history of our plane except for dates of transfers within the service. By the time it was retired in 1972, it had been converted into an executive transport, VC-47D. Upon leaving the Air Force, it was used by the state of Florida spraying for Mosquitoes out of the Miami area. From there it was acquired by the Vietnam Huey Pilots Association who had it ferried here to Beaver County.
As for flying, our plane is in a somewhat flying condition. They were able to ferry it up here, but we will need to do some maintenance on it and get it repainted into its military colors before we can begin flying it to air shows hopefully starting next year.
So for all that haven't seen it yet, why don't you come on out and see our new combat Veteran.