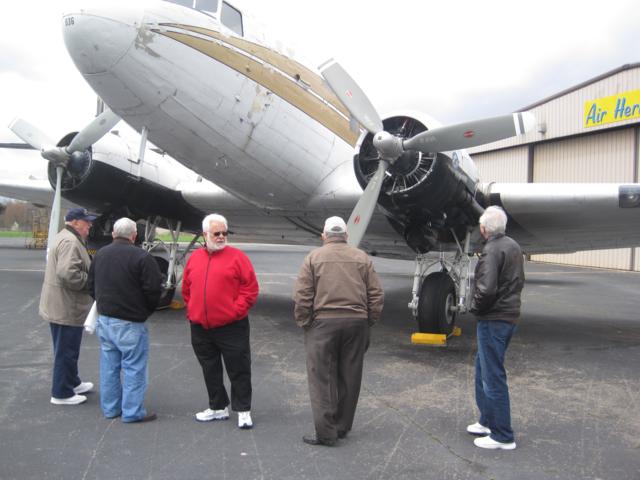 Last month a group of Cliff Ball Wing members of the OX5 Aviation Pioneers stopped by Air Heritage for a tour. Here is what they had to say about their experience.
On April 20, 2013 a group of Cliff Ball Wing members of the OX5 Aviation Pioneers departed from the parking lot at Allegheny County Airport for a trip to the Air Heritage of Western Pennsylvania Beaver Air Museum. Trip was planned by member Norman Hogg earlier in the year. The group departed 10:00 AM with the fist stop at Sal's restaurant for an excellent lunch and then the Spring CBW meeting.

At 1:00 PM the group was met by Bill Schillig, Air Heritage President, who conducted a tour of the museum facilities. CBW members saw numerous aircraft in various stages of restoration that included a Funk B-75L, F15-A Eagle, Jet Provost T3, C-123K Provider, OV-1D Mohawk, T34 Mentor, Fairchild 24, T-28B Trojan and L-21B Seneca.

In addition to the aircraft being restored, the group viewed the memorabilia area which is very complete with WWII memorabilia, models, and displays. The group was highly pleased with the work being done by Air Heritage and expressed their appreciation with thanks to Bill and Paul Schillig and other museum personnel.

On this day the Air Heritage was conducting an annual pig roast which serves as a fundraising affair for the organization.
-Clifford J. Yerkey, Pres CBW
View the pictures on their website or the video on YouTube.